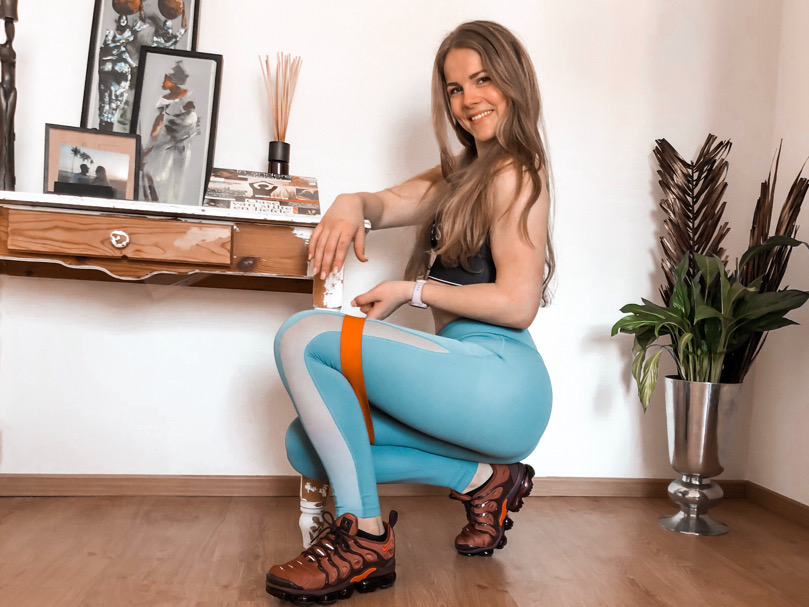 Happy Humpday!
In het teken van woensdag humpdag deel ik vandaag mijn favoriete booty oefeningen met jullie. Het fijne aan deze workout is dat je hem thuis kunt doen, het enige wat je nodig hebt is een bank, een zwaar boek en eventueel een mini-band. Laten we beginnen!
Guys, are you ready for some humpday booty work? Let's do this!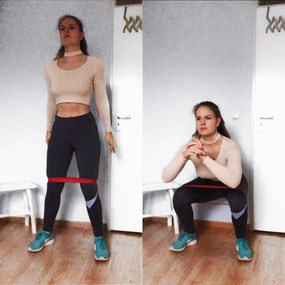 Squats 3x12
Deze heb je vast al vaker voorbij zien komen: squats. Hoewel ze meestal ingezet worden tijdens een leg workout, kun je ze ook prima doen voor de booty. Het gaat hierbij vooral om de mind/muscle connectie: het gebruiken van bepaalde spieren door hieraan "te denken" tijdens de oefening. Dit kan een beetje lastig zijn voor beginners, maar als je het eenmaal doorhebt zul je ongelooflijke resultaten zien! De truc? Gebruik je bilspieren door jezelf vanuit je hielen omhoog te drukken.
I bet this is not the first time you've heard about squats. However, they are most commonly used as a leg exercise. But did you know you can work your glutes with them, too? It's all about the mind/muscle connection. To really use the right muscles during your workout, you have to put your mind to it. This may be a little difficult for beginners, but once you master it you will see results like no other! Just really use your glutes through the movement. A little trick to do this is to push from the heels up.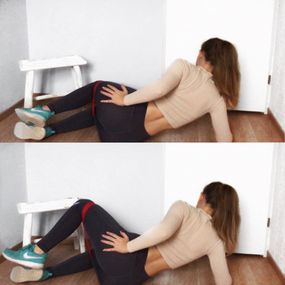 Side lying clams 3x10
Deze oefening heb ik sinds kort weer her-ontdekt en hij is fantastisch! Probeer ook hier weer te denken vanuit de spiergroep die je traint, in dit geval de zijkant van je bootay. Je kunt deze oefening natuurlijk zonder mini-band of gewicht doen, maar ik vind de hem veel effectiever als ik een elastiek gebruik. Probeer het eens!
I love this exercise so much, I would almost say it is my most favorite bootay burner ever. With this you really work the side of your bum, which is such a hard part to target. While you could do this exercise without any bands or weight, I prefer to use a resistance band to feel the burn on a whole new level.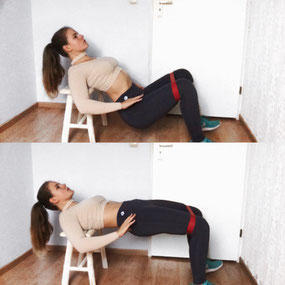 Hip thrusts 3x12
Deze wordt niet voor niets geprezen als één van de meest effectieve glute workouts: hij werkt! Zeker als je zorgt voor een goede mind/muscle connectie. Na wat oefenen zul je bij deze oefening je bilspieren voelen als geen ander. Twee tips: houd je tenen in de lucht zodat je echt vanuit je hielen duwt & knijp bovenaan je billen samen terwijl je je buik aanspant.
The hip thrust has been getting more and more attention in fit-girl world, and it deserves all the love! This one is great to target your behind, but remember to make use of that mind/muscle connection. I like to keep my toes a little bit from the ground to make sure I really push through my heels and target the booty in the most effective way. Also, make sure to squeeze a little on top, but don't go into over extension.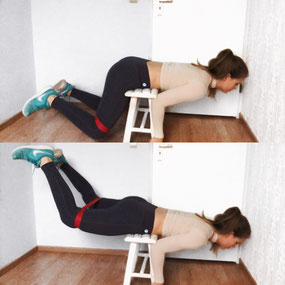 Prone leg/glute lift 3x10
Deze oefening doe ik eigenlijk nooit, vooral omdat hij niet comfortabel voelt voor m'n onderrug. Ik zou deze oefening niet aanraden voor mensen met lage rugklachten, juist omdat hij vrij belastend is. Heb je nergens last van? Dan is dit zeker een goeie oefening om je billen extra aan te spreken.
I honestly never do this exercise, but I just wanted to show you guys something different. This one targets the boot, especially when you use a mini-band. However, I have some lower back issues and this feels really uncomfortable to me. If you have no problems with your back, I'd definitely recommend this one though!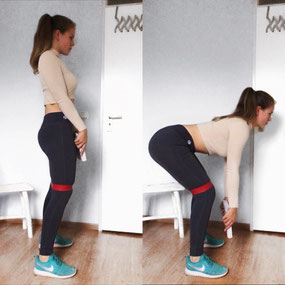 Deadlift 3x10
We gaan weer terug naar een gouwe ouwe: de deadlift. De laatste tijd doe ik deze zó vaak. Normaal train je bij een deadlift vooral je hamstrings, maar door je knieën iets te buigen zet je ook de glutes aan het werk. Deze oefening is vooral fijn wanneer je last heb van je knieën, omdat het vrijwel niet belastend is voor je kniegewrichten.
Back to a golden oldie: the deadlift. This has been my go to movement lately. While you mostly work your hamstrings during a deadlift, I like to bent my knees a little and pull from the glutes. This exercise is one of my favorites when my knee is acting up, because it's much more friendly on the joints than squats.
Wat is jouw favo (at home) booty oefening? Laat het me weten!
Let me know your fave (at home) booty workout below!